Mayor Sylvester Turner, Comcast executives, and several community leaders gathered at City Hall to announce a new phase of the Comcast RISE program launching in Houston – the Comcast RISE Investment Fund. The Comcast RISE Investment Fund, will award $5 million dollars of grants to hundreds of Black, Indigenous, and People of Color (BIPOC)-owned, small businesses in five cities nationwide, including $1 million in Houston.
The window to apply for the Comcast RISE Investment Fund is March 1 – 14, 2021. Recipients will be announced at the end of April, and grants will be awarded in May. To qualify, grant applicants must be in a business for three or more years, employ a staff of between one and 25 employees, and meet other Comcast RISE eligibility requirements.  If a business is not in one of these five cities, Comcast RISE also offers the opportunity for BIPOC-owned, small business to apply for marketing and technology services from Comcast Business and Effectv, the advertising sales division of Comcast Cable. So far, over 700 businesses have received these services, and another round will be announced in March.
"The City of Houston knows the pandemic has created challenges for many small businesses, especially minority-owned businesses, and we continue to do everything we can to help them survive until things get better," said Mayor Sylvester Turner. "The Comcast RISE Investment Fund will ensure that 100 small businesses that exist today continue to exist tomorrow. I highly encourage BIPOC-owned small businesses that are in most financial need to take advantage of this wonderful opportunity."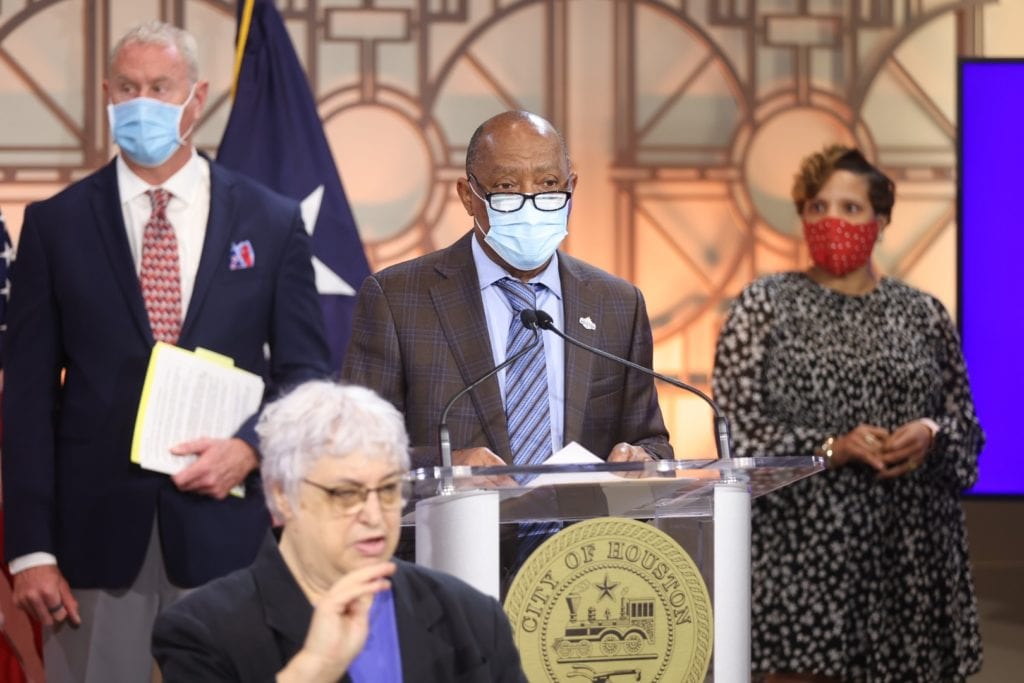 To help drive outreach about the program and provide additional support, training and mentorship, Comcast has also awarded more than $2 million to nearly 20 community-based organizations in the five cities, including Houston Hispanic Chamber of Commerce, Greater Houston Black Chamber, Asian Chamber of Commerce, Greater Houston LGBT, Houston East End Chamber and Cámara de Empresarios in Houston, as well as the Association for Enterprise Opportunity (AEO), Operation Hope, Ureeka, U.S. Black Chambers, U.S. Hispanic Chamber of Commerce, National Asian American Chamber of Commerce.
"Small businesses have always played an integral role in Houston's growth and future," said Ralph Martinez, senior vice president for Comcast's Houston region. "In the midst of the pandemic, these entrepreneurs provided many of the services and resources that have kept our communities up and running."
"Unfortunately, many small businesses in Houston were not able to withstand the many months of suppressed revenues.  While we remain optimistic about our economic recovery, public-private partnerships will play a vital role in minimizing the disruptions that so many small businesses, specifically minority-owned business, are facing," said Vice Mayor Pro-Tem Martha Castex-Tatum who chairs the City of Houston's Economic Development Committee.
In addition, all eligible applicants will receive a monthly Comcast RISE newsletter with educational content, and all small business owners can visit the Comcast RISE destination on the X1 platform, which features aggregated small business news, tips, insights and more. The destination is designed to help businesses grow by empowering them through inspiration and entertainment. Just say "Comcast RISE" into the X1 voice remote.
Comcast RISE is part of a larger $100 million Diversity, Equity and Inclusion initiative that Comcast launched this summer. In June, 2020, Comcast NBCUniversal announced the development of a comprehensive, multi-year plan to allocate $75 million in cash and $25 million in media over the next three years to fight injustice and inequality against any race, ethnicity, gender identity, sexual orientation or ability.
More information and the applications to apply for either the grant program or the marketing and technology services are available at www.ComcastRISE.com.