In celebration of this year's Hispanic Heritage Month, Comcast will honor eight community volunteers for the fifth year since the Comcast Hispanic Hero Awards began. This year's honorees will be celebrated through a series of vignettes, that will be featured on Comcast social platforms beginning September 15. Comcast will also donate $1,000 to the nonprofit organization of each honoree's choice.
"The Hispanic Hero Awards give us an opportunity to recognize those who have played a vital role in positive change in their communities while celebrating the diversity of this great city," said Ralph Martinez, senior vice president for Comcast's Houston region. "Although we are unable to meet in-person this year, we feel it is important to continue the tradition of recognizing these community volunteers."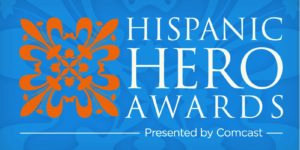 2020 Hispanic Hero Honorees
Click on each headshot to find out more about each honoree.
Each honoree was nominated by community partners and selected by a panel of judges. Honorees were judged on criteria that included their personal impact in the community, helping further the mission of a nonprofit organization and overcoming personal obstacles.
The award recipients will be featured here, Twitter (@ComcastHouston), and Facebook (@Comcast) beginning Sept. 15 through October 15.