Comcast recently unveiled its new Technology Center with a special ribbon-cutting ceremony at the brand new location in Missouri City, Texas. The 32,000 square-foot facility, which includes a 5,000 square-foot warehouse, will be home to more than 300 technicians, Comcast Business and Xfinity sales professionals who support customers throughout Missouri City and the surrounding areas.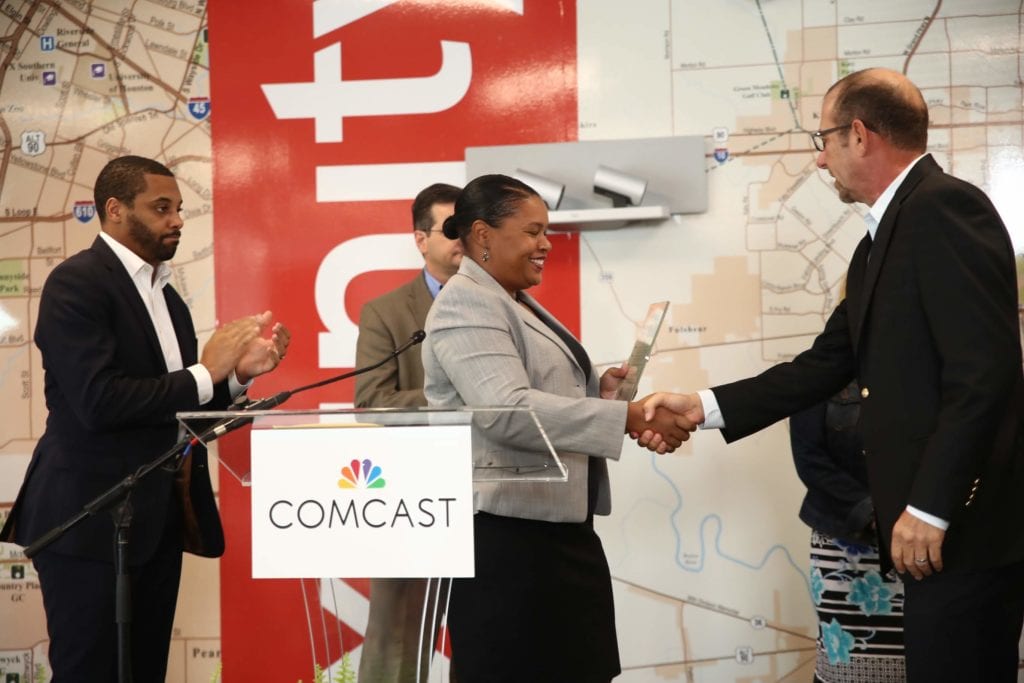 "Today is an exciting day to welcome Comcast to our city, said Missouri City Mayor Yolanda Ford, "Not just as another business, but as a community partner." Other community officials in attendance were: Missouri City Manager Anthony Snipes, Jeff Wiley, President and CEO of the Ft. Bend Economic Development Council; Reginald Pearson, Councilmember (District A); Jeffrey L. Boney, Councilmember (District B); Anthony G. Maroulis, Councilmember (District C) and Floyd Emery, Councilmember (District D).
Comcast Houston Vice President of Technical Operations, Rick Seamon thanked the city and other key players who were involved in making the technology center a reality.
The group took a tour of the state-of-the-art facility that features an open floor concept with over 100 workstations, 15 conference rooms, an Xfinity product demo lab, Comcast University classrooms, kitchen and a cafeteria.
Missouri City was chosen because of its high economic growth, proximity to major highways and ultimately bringing employees closer to customers. This new facility is the latest in Comcast's ongoing commitment to improving the customer experience.